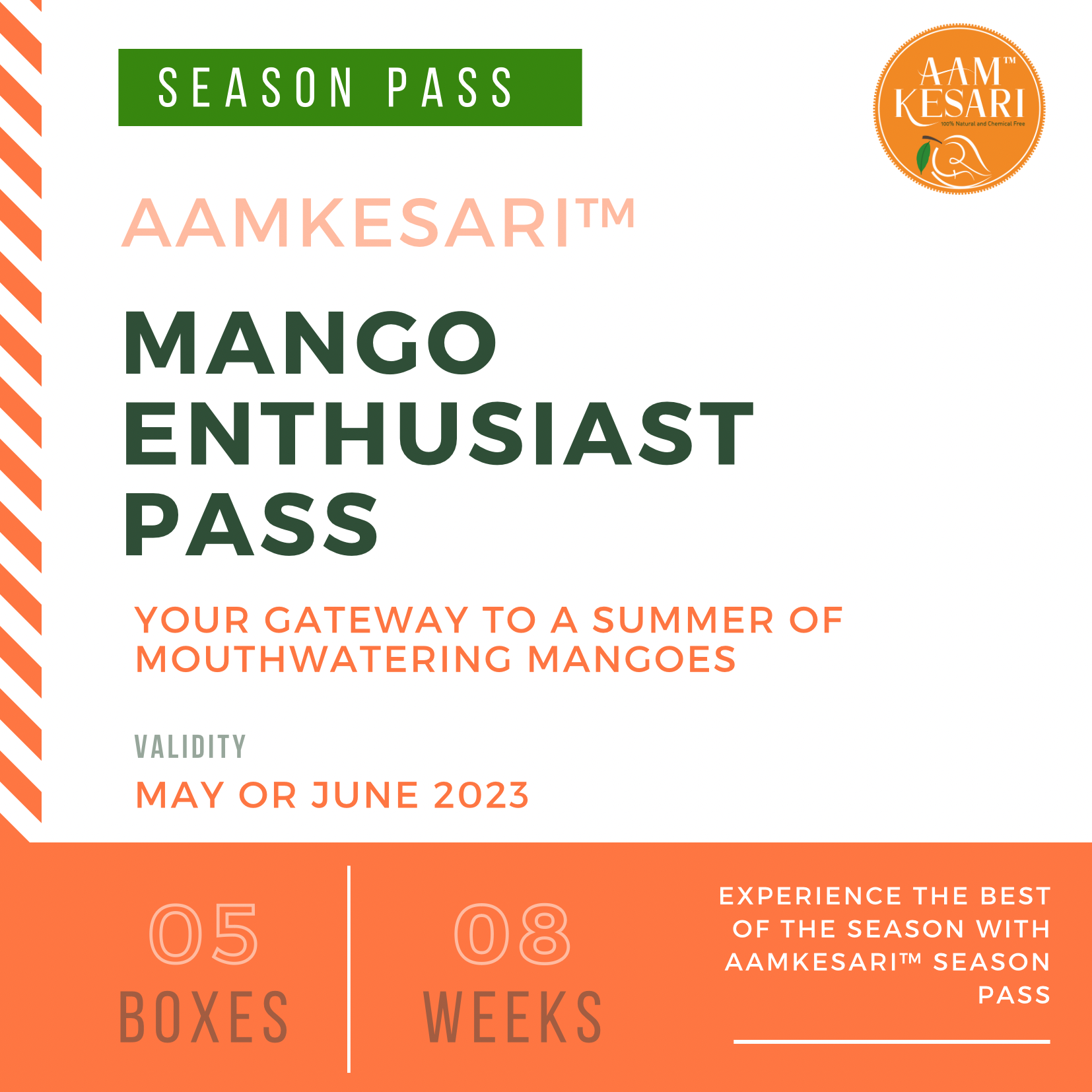 Mango Enthusiast Pass - 05 Box
Select Delivery Scheddule
The Mango Enthusiast Pass
is perfect for those who want to enjoy the delicious taste of Gir Kesar mangoes, but don't need a large quantity.
This pass
includes 5 boxes of premium quality mangoes, ideal for singles, couples, or small families.
Rs.8,749.00

-

Rs.11,259.00
Here's what you can expect from
Mango Enthusiast
Season Pass:
Finest quality mangoes
: We carefully handpick the best quality Gir Kesar mangoes to ensure that you get the freshest and most flavorful fruit.
Convenient delivery
: Our mangoes are delivered right to your doorstep once or twice a week, depending on the plan you choose, so you don't have to worry about going to the market.
Flexible plans
: We offer two plans - weekly delivery once a week or twice a week - to suit your needs and preferences.
Sustainability
: Our mangoes are sourced from local farmers who follow sustainable farming practices, so by subscribing to our season pass, you're not only enjoying delicious mangoes but also supporting responsible agriculture.
By subscribing to our Mango Connoisseur Season Pass, you'll be able to enjoy the finest quality mangoes throughout the season without any hassle. Simply choose your plan, place your order, and sit back and relax while we take care of the rest.
Join the AamKesari community of mango lovers today and subscribe to our Mango Enthusiast Season Pass.
How it works:
Choose your plan: We offer two plans - weekly or twice-a-week delivery.
Choose your Qty: You can choose up to 3 boxes for your weekly or twice-a-week delivery.
Place your order: Select the plan and quantity that suits you best and place your order.
Sit back and relax: We will take care of the rest! Your mangoes will be delivered to your doorstep on the designated days.